I'm not used to typing out thoughts. This is strange. Blogging is new to me but it looks like fun. I switched to blogspot so its easier to update my webbie. No scrambling on dreamweaver and such. Just type and it updates. Easy. Anyone looking will see lots of photos of my kids.... like this one...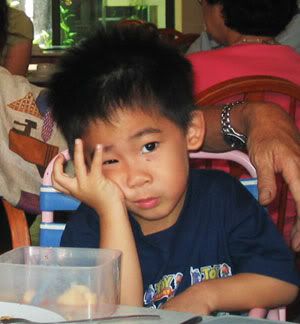 wahlau... this site is boring man.

Sean talks a lot. It's a good thing. At 2, he feels a lot of things but can't seem to control how it should translate to proper speech or expression. Sometimes it comes out as crying, screaming, whining, sulking... which are normal at this age. Sometimes you can see it in his face. Sometimes you just pull your hair off.

But in all of it, he's a great boy and I'm proud of him. Tough time for him now though... but eventually he'll learn to understand what life is all about as he grows up.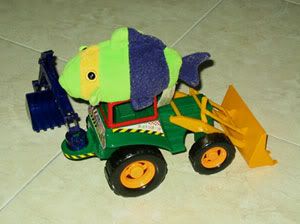 This is Nemo. He's sitting on a tractor.... duhh

Nemo's going for a ride on Sean's tractor. Nemo's his best pal. Don't mess with the fish or you'll be in trouble. It's a strange thing how they got together. His teddy-bear was immediately ditched when the fish and him got together. Poor bear. He brings Nemo everywhere he goes.

Great clown fish.