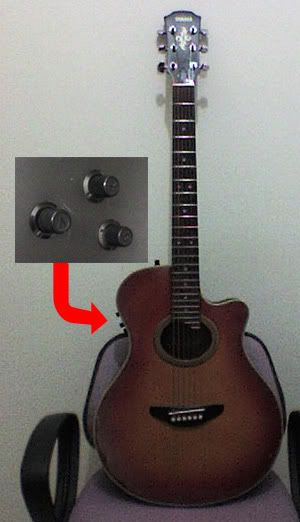 The Yamaha APX-6 with retro controls.

Meet my guitar. My gorgeous guitar. It's a Yamaha APX-6. To me this is one fine guitar. It has survived some rigorous playing and the body shows. Paint and lacquer is really chipping off. I really like its tone and I've managed to tweak the action to my liking. Really fits my fingers well and has good playability. I will not trade this guitar for any. This guitar was a gift from my dad. Now if only I can remember which birthday it was - still during my teenage years. It was a real surprise. He just started off his own car repair business again (after many years) and was really doing well. Bless the Lord for that. So one day he asked, "Jason do you want a guitar?"... well something like that. And he already spoke to my older bro Jim who was at that time in KL and made arrangements. I was already playing guitar in my church and youth group at that time. So the guitar was purchased and I did not know what to expect. When my bro came back with the guitar on my birthday, I was like whoooaaaa! so cun la the guitar!!! I am so grateful to my dad. It was an awesome gift.

Today the guitar still sounds sweet. But as with all things, nothing lasts forever. The electronics have since failed. Started less than 2 years ago (check my archives on a Mission Trip I took part in). It was repaired months ago (a blessing by a dear brother from church)... BUT... died again last week. Ughh... man the disappointment. But God is good. The guitar has played and will still play songs of gratitude and love to my Savior.

I use a gauge 11 set on my guitar. I especially like D'Addario's Phosphor Bronze Custom Light. They are excellent! If you cant afford those Elixir and whatever that'll cost you your underwear... then these babies will do! They will not fail you. After playing acoustic guitar for quite a while... I realized this.... NEVER use gauge 10s for acoutic guitars! They just suck and don't bring out the warmth of the acoustic body. I mean like... no guitar effect can save this. Check them out here.

This is an awesome guitar! I've tried other models... APX4, 5, 7... mine's still cooler and awesomer. YEah!!!!

Well... at least until I recently played a Larrivee.... ohhhh man!!!!!! Good bye Taylor and Yamaha!

Here's to my sweet guitar. No teardrops please. It'll rot the wood.